Create an Engaging and Educational Sensory Bin
Make a sensory bin for your kids to explore and give yourself a well-deserved break while they play independently.
If you are wondering why you would ever want to give your child such a messy invitation to play, you will want to read how beneficial an educational sensory bin can be to a child's development here: "Are Sensory Bins Really Worth the Mess?".
Check back for more ideas as this page is updated regularly.
Some links on this page may be affiliate links, which means that if you click on them, I may make a tiny bit of money, at no extra cost to you.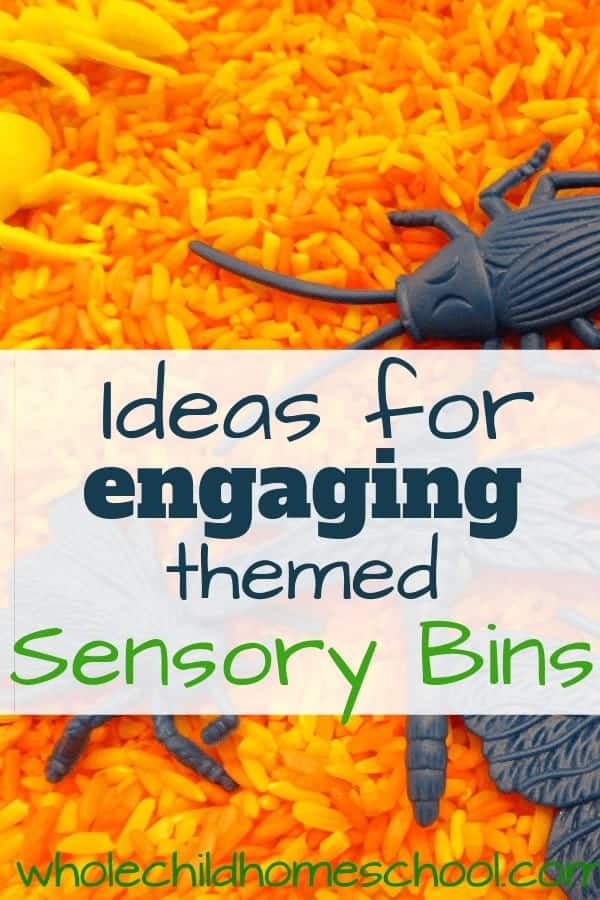 Holiday Sensory Bins
Valentine's Day
For this simple bin, I used a plastic serving platter from the dollar store as a container.
I colored rice green, pink and purple. (Learn how to easily color rice).
Then I added in a bag of pink, purple and mint green pompoms and a bag of sparkly mini pompoms from the Valentine's day section of the dollar store.
---
St. Patrick's Day
This bin is all from the dollar store and only costs $5 to make.
Your kids will definitely play with it longer than they do an expensive store-bought toy!
This bin is a plastic dishpan; colored rice, green glass gems and tiny green rocks from the floral section. (Learn how to easily color rice).
Finally, toss in a few glitter foam shamrocks from the St. Patrick's day selection at the dollar store to complete your educational sensory bin.
---
Easter bunnies and chicks
My preschool kids loved hiding bunnies, chicks and rice in the eggs.
This educational sensory bin has blue, purple, green and pink colored rice along with small plastic bunnies, flowers, and Easter eggs, all of which I bought at the dollar store. (Learn how to easily color rice).
The chicks came from Hobby Lobby and are similar to these.

---
Bunnies hiding in Easter Grass
This is a super simple sensory bin!
All items are from the dollar store, so it's super inexpensive, too!
A multi-colored bag of paper Easter "grass", a package of plastic bunnies, and Styrofoam glitter eggs combined in a plastic tub.
Pastel colored paper run through a shredder would work in place of the Easter basket grass.
---
Thanksgiving Turkey
Start with some cracked corn from a local farm and home store or the patio & garden section of a big box store (like Wal-Mart or Home Depot) as a base filler.
Add in tan pompoms for the turkey bodies and some googly eyes. I cut orange craft foam into triangles for beaks and red craft foam into squiggles for wattles.
For feathers, I used small bits of tissue paper from my craft stash; you could also use craft feathers from the dollar or craft store. I made turkey feet from brown pipe cleaners following Fun-A-Day's easy instructions.
Finally, I added a measuring spoon and snack cup for scooping and pouring to complete this Thanksgiving/Turkey educational sensory bin.
---
Halloween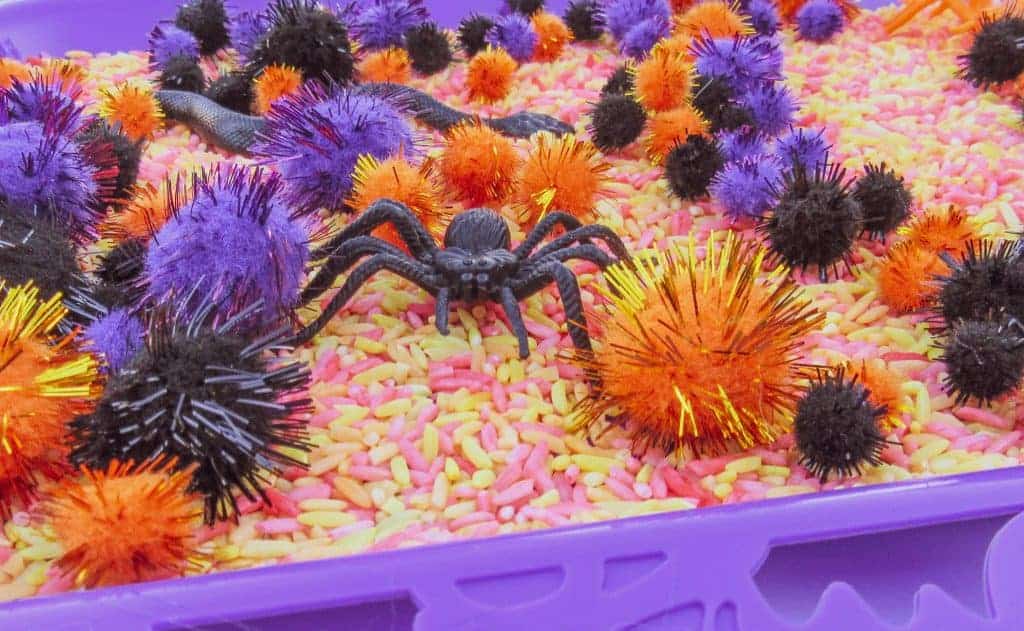 This super simple and non-scary Halloween sensory bin has yellow and red colored rice for a base. (Learn how to easily color rice).
Throw in some Halloween pompoms from the dollar store along with a few plastic snakes and spiders for a super fast sensory tray.
---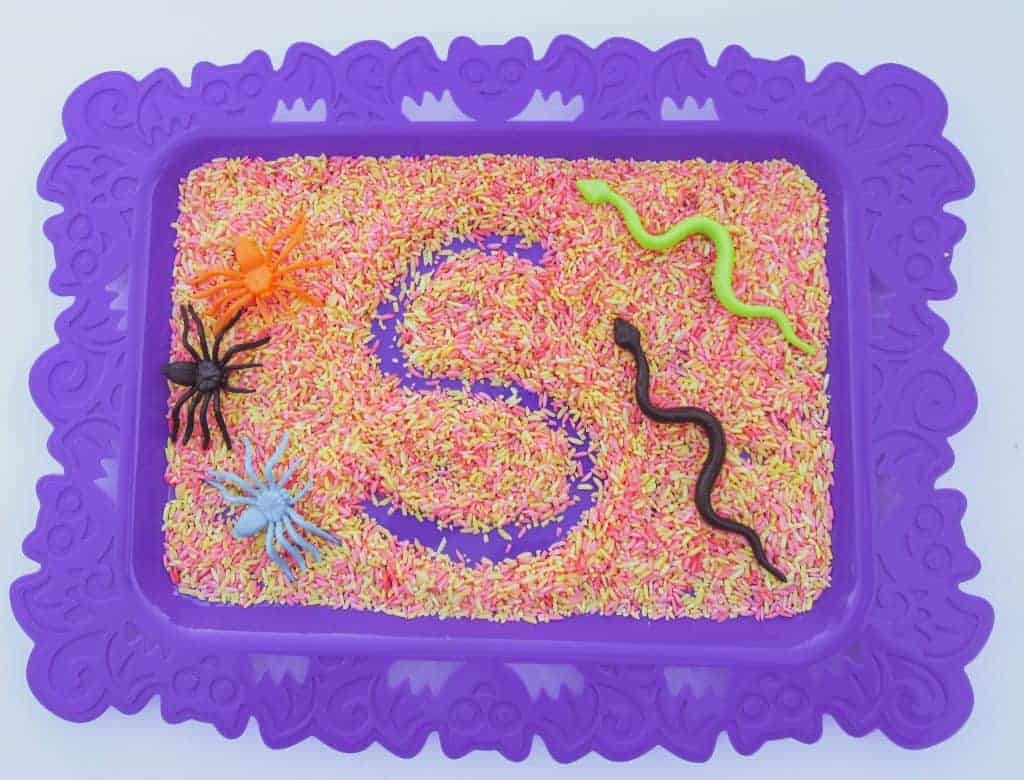 Use the same base of colored rice without the pompoms for a fine motor writing tray. (Learn how to easily color rice).
I found this Halloween tray at my local dollar store. The snakes and spiders came in a large bag of Halloween toys from Wal-Mart.
---
---
Christmas
Make a Christmas Symbols sensory bin to improve your child's vocabulary.
Look for typical symbols associated with Christmas like bows, Santas, snowmen, drums, ornaments, and Christmas trees.
Start with some red rice and green dyed pasta as the base of this Christmas sensory bin. (Learn how to easily color rice).
Next, add in some Christmas shaped pencil top erasers, drum ornaments, pompoms, mini bows, and plastic ball ornaments and whatever small Christmas themed trinkets that you find to complete this bin.
You can purchase all of the items for this bin at the dollar store or a craft store like Hobby Lobby.

---
Seasonal Sensory Bins
Winter
Create a winter wonderland for Elsa, Anna, and Olaf or just play as a sensory experience.
I started with Buffalo Snow brand "Iridescent Snow Flakes" which are available at Michael's and Wal-Mart. Any type of fake snow will work, I just liked the iridescent sparkle of the Buffalo Snow.
I found the rest of the items at Dollar Tree. Glittered snowflake ornaments and silver pipe cleaners from the Christmas section, purple pompoms from the Halloween section (in a package of black, purple & orange), and finally, blue glass gems and blue glass beads in the floral section.
---
Fall
Cut up a few sheets of yellow and orange tissue paper into strips, about 1 by 2 inches for the base of this fall sensory bin.
Add in some real leaves or grab fabric or felt leaves at the dollar store along with Styrofoam acorns and gourds.
This is a great bin to add some scent to either with cinnamon essential oil or my son's favorite, sunshine spice oil blend.
To make it smell like pumpkin spice add a teaspoon of pumpkin pie spice and 1/2 teaspoon of cinnamon from your spice cabinet into the bin and stir.
If you don't have pumpkin pie spice, just use equal amounts of cinnamon, cloves, and nutmeg. You can also put a couple of drops of vanilla extract onto the leaves and tissue paper.
Every time your kids play with the bin, it will make your house smell like fall!
Unit Study Sensory Bins
Unicorns & Dragons Patterning
This portable Unicorn and Dragons patterning bin fits into a large pencil case! Pencil cases are super inexpensive after the back to school season is over; the one I used is 12 inches wide.
The mini erasers, measuring cups, tongs and ice cube tray are all from the dollar store.
I re-used colored rice from an Easter sensory bin. (I store my off-season sensory bin stuff in extra large zipper bags–that are from the dollar store, too–so I can re-use and re-purpose the items for other themes!)
For patterning, show your child how to make a pattern by placing a few erasers in the first ice cube slots, then have them complete the pattern. The example above uses an ABA pattern in the first row; AAB in the second; and ABCA in the third.
---
Polar Express & Hot Chocolate
Create a sensory bin for your Polar Express and Hot Chocolate unit study.
Start with pinto beans as a base (for the hot chocolate).
Add in marshmallows, either large or mini.
I cut out some yellow stars from a glitter foam sheet.
Print out the Polar Express tickets from the Free Resource Library and cut out. I glued mine back to back so that the tickets are double-sided.
Not a member of the Whole Child Homeschool Tribe yet? Go to the bright pink box below to sign up and get immediate access to the Free Resource Library.
I added some plastic lids from applesauce squeeze pouches to represent the train wheels.
Then I added a couple of mini Christmas trees along with several jingle bells from the dollar store to complete the bin.
---
Dinosaurs
I made this dinosaur sensory bin as a small world for imaginative play during our Dinosaurs and Dragons, too unit study.
The base is a boot tray (from Amazon or a local hardware store) because I wanted a larger play area than I usually have for my sensory bins.
I added small pea gravel as the main sensory element.
I cut out a river and pond from blue craft foam and placed a few blue gems on top.
You can find the gems at the dollar store in the floral section. I also put in a few strands of fake grass (also from the floral section of the dollar store), but you could easily just use real grass. Some green leaves and toy dinosaurs along with the toy tree and rocks that came with some of the dinosaurs complete this educational sensory bin.
---
Camping
For this camping themed sensory bin, I re-used the orange and red rice from my "Bugs" themed bin. (Learn how to easily color rice).
I made tiny sleeping bags by rolling 1 inch by 2 inch strips of felt and tying it with a piece of string.
Next, I cut out very thin strips of orange and red felt (sort of in thin triangles) as flames for the campfire. I tied those together with a piece of string also.
Then, I sent the kids outside to look for a few skinny sticks to break into 2 to 3 inch pieces.
Finally, I added the foam marshmallows which I found in the crafting section at Wal-Mart. If you look closely, you can see teeth marks on one of the marshmallows where my son "tasted" it to see if was real! 🙂
---
Bugs
Any color of rice or beans would work for this simple bug sensory bin. (Learn how to easily color rice).
Add in some bug counters, or more realistic ones like these, or small plastic bugs from the toy section of the dollar store.
The dollar store often has bug catching tools in the summer which would be a fun addition to this bin.
---
Outer Space
This outer space sensory bin can be used with the Moon & Stars Unit Study or the Planets & Outer Space Unit Study.
It starts with glow in the dark aquarium gravel in an aluminum foil roasting pan. (I used a 5–pound bag of gravel in the largest roasting pan that the dollar store had).
Add in balls of aluminum foil for meteors and yellow pompoms for the sun.
I used purple Model magic to make the purple planets. Next, I used white glitter Model Magic to make the various phases of the moon. This step would be a great project for an older child to help with.
Finally, I cut some stars out of yellow glitter foam sheets. I used my Cricut, but going old-school with a pair of scissors is totally do-able.
---
Astronauts on the moon
This Astronauts on the Moon Sensory bin goes perfectly with the Astronaut Unit Study.
I re-used the glow in the dark aquarium gravel from the outer space sensory bin. But if you don't want to purchase the aquarium gravel, black beans would work just as well.
If your kids aren't allergic to gluten, plain flour would be a fun substitution for the surface of the moon.
We used the "Out of this World" TOOB toys, although you could use whatever astronaut/space shuttle toys you already have.
---
Lewis & Clark Corps of Discovery Expedition
Make this Lewis & Clark Corps of Discovery Expedition sensory bin to go along with your Lewis & Clark unit study.
Start with some river pebbles as the base along with some blue craft foam for the river.
Add in some blue glass gems for the water and pine cones for the trees.
My husband cut out a "dugout canoe" from a stick for the adventurer's transportation.
Finally, add in some plastic animals and TOOB figurines. Shown in this picture are the "sailor with navigational device" from the Jamestown Settlers TOOB, Native Americans from the Wild West TOOB, and animals from the Nature TOOB.
---
Pin this to your favorite board so you can find it again! And be sure to follow Whole Child Homeschool on Pinterest for 1000s of Free Homeschooling Resources and Ideas!
---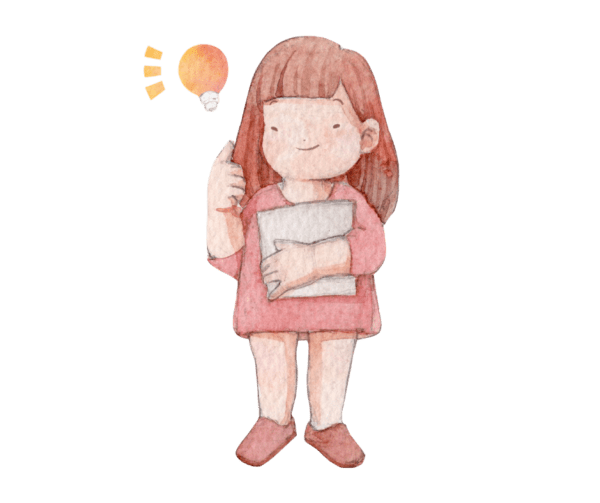 Homeschooling Shouldn't Be Hard!
Make your homeschool mom life easier! Join Jenn and 1000s of other homeschooling moms when you sign up to be in the Whole Child Homeschool Squad.
(I will never sell your email address; pinky promise!)