Study Modern American History with Movies: World War I to World War II
Study American History with Movies of the American Involvement in World War I and World War II, plus The Roaring Twenties and The Great Depression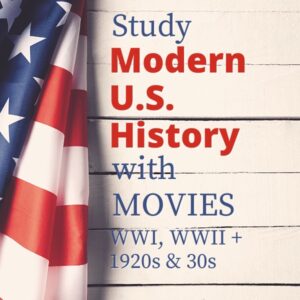 Modern American History is one of the subjects my family dives really deeply into at the high school level.
It seems like modern American history gets much less coverage than say Ancient, Medieval, and early American history. I know in my family we don't cover the World Wars in elementary or middle school, because it's difficult for me (even as an adult) to think about the horribleness of the World Wars. Once our kids are old enough to think abstractly and critically, then it's time to study and learn about those dark times in our nation's history. By studying the sacrifices made by those generations, we will hopefully be raising up the next to not let those atrocities happen ever again.
Modern American History with Movies: A Vetted List
You and your teens can study Modern American History with movies using this list which is appropriate for high school students (ages 14 and older). Some are rated R, mostly for violence, and they are noted. There are many other good movies set in this time frame that aren't included in this list because they aren't based upon real, historical events. For example, The Boy in the Striped Pajamas and The Book Thief are excellent movies but both are based upon historical fiction books.
Parents should preview any movie that they feel is questionable for their children, however, as family preferences may differ. Common Sense Media and Plugged In are helpful sources of movie reviews.
Also, be sure to check out these four ways to incorporate movies into your homeschool (beyond reading the book and watching the movie) in this post: How to Study American History with Movies for Homeschool Families
Some links in this post may be affiliate links. This means that if you click on them, I may make a tiny commission, at no extra cost to you. For more info, check our privacy policy.
Modern American History Movies for Teens
American Involvement in World War I
War Horse 2011 PG-13 This epic film tells the story of Joey, a horse, as he travels to different owners, beginning with a farm boy who must sell him to a British Army captain during the First World War. Definitely a tear-jerker, it's a movie that you will love! On Netflix and Prime, as well as most other streaming services.
Sergeant York 1941 NR Gary Cooper stars in this movie about a man who doesn't believe in violence but is recruited to fight for his country in WWI. This movie was an Academy Award winner and is based upon a real-life hero. Find it on most streaming platforms and on Prime.
Flyboys 2006 PG-13 A group of young American pilots voluntarily join the French forces because the United States hadn't yet joined the war. They become the LaFayette Escadrille (although the movie blends this group's story with the similar LaFayette Flying Corps). Find it for free on Vudu or rent it on Prime.
The Lost Battalion 2001 NR (Made for TV by A&E). (Don't get this mixed by with the WWII movie, Lost Battalion, from 1961.) This movie is based upon the true story of a battalion of American soldiers defending an area in France. They become surrounded by the Germans but refuse to surrender. Don't miss this one! Find it on Netflix or YouTube, if you can.
1917 2019 R Okay, so this movie doesn't fit into our "American Involvement" per se. It's about two British soldiers who have to get behind enemy lines to deliver a message which will save hundreds of lives. But it's too good of a movie to not include it here. Common Sense Media says this about it: "Teens may be reluctant to see a movie about World War I, but 1917 could be a game-changer: It's hard to imagine anyone won't appreciate its originality, heart, and grit." It's rated R for war violence and gore. Rent it on Google Play, Vudu, or Prime.
---
The Roaring Twenties & The Great Depression
1920s
The Great Gatsby 1974 PG This older version of F. Scott Fitzgerald's book is more true to the book than the newer film with Leonardo DiCaprio if that's important to your studies. The newer one does a good job of showing the absolute decadence of the Roaring Twenties but it does show Daisy and Gatsby's extra-marital affair. On most streaming platforms, including Prime.
All the King's Men 1949 PG This is based on the Louisana governor and senator Huey P. Long the "Kingfish". Although he starts out as an honest, small town guy, he is quickly corrupted by power and money. This will appeal to your teens with an interest in politics. (Make sure you don't grab the remake from 2006 with Sean Penn.) The 1949 version is on Prime and most streaming platforms.
Immigration
A Tree Grows in Brooklyn 1945 PG This movie is an accurate adaptation of the book of the same title. The movie, however, doesn't include the full ending of the book. The Nolan family lives in an apartment building in Brooklyn during the early 1900s. The daughter, Francie, dreams of a better life. It's an excellent example of what daily life was like for immigrants in the early 20th century. My teens said it was REALLY good for being a black and white movie. And it really is! Not currently available to stream.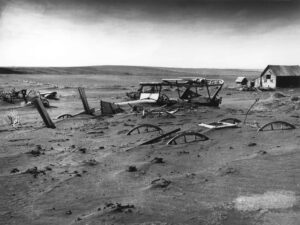 1930s
Grapes of Wrath 1940 NR/G This movie is based upon John Steinbeck's prize-winning book and won two Academy Awards. Henry Fonda stars in this film about a migrant farming family who decides to escape the Oklahoma Dust Bowl and head to California. Eye-opening depiction of what life was like for many families during the Great Depression. You can stream it on Prime and most other streaming services. Don't miss this heartbreaking, but heartwarming movie!
O Brother, Where Art Thou? 2000 PG-13 The light comedy from the Coen brothers is a parallel of Homer's Odyessy. The main character, Ulysses, gets out of the Mississippi prison chain gang and is making his way back home during the Great Depression. Be prepared to discuss the racial slurs that were commonly used during the 1920s in the South. However, this is a great movie with a clever storyline and witty dialogue. Amazing soundtrack, too! Find it on Vudu, Google+, and Prime.
Journey of Natty Gunn 1985 PG The story of a girl's trip across the country to find her father during the Great Depression is one your whole family will enjoy! It really conveys a picture of the Great Depression era. Find it on Disney+, Prime, and most other streaming services.
---
American Involvement in World War II
Patton 1970 PG Patton was a general truly feared by the Nazis. He believed in reincarnation and making your enemy die for his country. This film won Rated PG by 1970s standards, would be at least PG-13 for a lot of salty language today, I think. It won six Academy Awards. Available on Hulu, Prime, and most other platforms. CommonSenseMedia has a few questions to discuss with your teens after viewing.
Windtalkers 2002 R The Navajo Code Talkers were a highly classified group of soldiers who spoke their native language as "code" in World War 2. Their language was an unbreakable code to the Japanese and played a large part in many American successes. This movie is rated R for a lot of violence and racial language, but I've included it so you can start a discussion with your teens about 1.) the huge racial barriers faced by the Navajo Marines who volunteered to help their country and 2.) the often forgotten, but invaluable contribution of the Navajos. Available on many streaming services and Prime.
The Holocaust
These Holocaust movies aren't from an American perspective, but these films are very important in preserving and honoring the memory of those who lost their lives during the Holocaust. Many of the survivors of the Holocaust came to America to live and raise their families.
Schindler's List 1993 R Oskar Schindler was an Austrian factory owner and a member of the Nazi party. He used his enamelware factory to save 1200 Jewish people. This movie explores good and evil and how both can sometimes exist within the same person, as well as how a person's heart can change. Schindler is buried at Mount Zion in Jerusalem and was named (along with his wife, Emilie) "Righteous Among the Nations" by the Israeli government. Rated R for scenes of nudity at the concentration camp Auschwitz. Also, check out the book, Schindler's List by Thomas Keneally. Stream it on Prime as well as most other streaming services.
The Hiding Place & Return to the Hiding Place 2000/2014 PG-13. The Hiding Place tells of Corrie Ten Boom's courageous hiding of Jewish people in Holland. Return to the Hiding Place is not a sequel, but actually a retelling of the same story, but from the perspective of the Freedom Fighters. Stream either on Prime, or you can find it for free on TUBI. If your teens haven't yet read the book, The Hiding Place by Corrie Ten Boom, it's highly recommended for high school students.
Normandy "D Day"
IKE: Countdown to D-Day 2004 PG This made-for-TV movie stars Tom Selleck as Eisenhower. It tells the story of the 90 days leading up to the invasion at Normandy. Other than a few minor details and incorrectly portraying duplex drive landing craft (which none of the landing craft had), this film is pretty accurate. The DVD of this movie is getting more difficult to find, but you can stream it on Prime and VUDU.
The Longest Day 1962 NR This movie describes the events of the Normandy Landing, D-Day, from several different perspectives, such as the French Resistance, British and American troops, and the German command. The most factually accurate D-Day movie, it's filmed almost like a docudrama. Streaming on most platforms and Prime. Saving Private Ryan is a newer movie of the Normandy Landing, but is an EXTREMELY graphic film that can be upsetting to watch.
Pacific
Hacksaw Ridge 2016 R Based upon the heroic acts of a "conscientious objector" who was drafted anyway to serve in the Army. He served as a medic and saved 75 men at the Battle of Okinawa, for which he was awarded the Congressional Medal of Honor. There's also a book (and audiobook) that coordinates with this movie, Redemption at Hacksaw Ridge: The Gripping True Story that Inspired the Movie by Booten Herndon You can stream it on Prime and most other streaming platforms.
Midway 2019 PG-13 This remake stays pretty true to the original. Overall, this movie is historically accurate with the exception of a few very minor details, like insignia on uniforms or planes. Also, two of the characters who are shown to die were actually captured by the Japanese and tortured for two weeks before they were killed. On Prime, Vudu, and Google+.
Flags of our Fathers 2006 R A film directed by Clint Eastwood and based upon the non-fiction book, Flags of our Fathers by James Bradley. Bradley is the son of one of the six flag raisers in the iconic photo at Iwo Jima. Three of the survivors are thrust into celebrity when they return home. The film explores many themes, including idolatry, and the mental ramifications of war. You can stream it on most platforms, including Prime.
Prisoners of War
Unbroken 2014 PG-13 Louie Zamperini was an American Olympic athlete and an officer in the US Army during World War II. This film by the Coen brothers tells how his bomber crashed into the Pacific Ocean. He survived only to be taken as a Japanese prisoner of war. This is an AMAZING story that you don't want to miss. There's also a sequel called Path to Redemption. Together, the two movies coordinate with Laura Hillenbrand's book, Unbroken: A World War 2 Story of Survival, Resilience, and Redemption. (Listen to the audiobook for free with an Audible trial.) Like most World War II stories, there are some tough scenes to watch, use these as a conversation starter with your teens. Stream it on all major platforms including Prime.
The Railway Man 2013 R (This movie is technically about a British officer, not an American, but still worth watching). A story of revenge and redemption with similar themes to that of Unbroken. This movie is based on the true story and autobiography of Eric Lomax. It stars Colin Firth and Nicole Kidman. Rated R for prisoner of war violence. Stream it on most platforms like Prime, or for free on TUBI. Another movie about the Burma railroad (built by British POWs) is The Bridge of the River Kwai from 1957, which won seven Academy Awards.
---
Study WW2 with this Amazing Giveaway from Hope House Press!
My oldest son (who is a junior this year) says he only wants to learn about "interesting" things this year. And apparently, this Seabirds Trilogy is "interesting" because he dived into these books and barely comes up for air. In fact, he ACTUALLY COMPLAINS on the days that he has a bunch of outside activities because he doesn't have enough time for these books (and he has dyslexia and isn't much of a reader in general). I am definitely not complaining about that (although it does seem unusual)!
Anyway, I bet your teens will love these books just as much! (We are using both the Companion Set and the Trilogy set)
Hope House Press has some great books that will not only excite them but bring history to life!
This month, several other homeschool bloggers and I have joined together to bring you an amazing giveaway this month from Hope House Press. They are giving away three different prize packages to THREE lucky Winners!
Prize Package #1: The Seabirds Trilogy Companion Curriculum (Print Set, Value $49.96)
Learn the who, what, why, and how of the Second World War. Simple Solutions to High-school Level WWII History, Social Studies, College Prep, Critical Thinking Skills, Academic Research and Writing, and Spiritual Growth. A Faith-based approach with a global perspective. The instructor's guide provides answer keys, grading scales, scripts for Movie Night, and discussion questions so a teacher can successfully guide their student through the curriculum.
Prize Package #2: The Seabirds Trilogy (Print Set, Value $55.97)
Book 1: Voyage of the Sandpiper
When fifteen-year-old Agatha's mother falls gravely ill, she is shipped off to the coast of Maine to live with her aunt, Edith Philipa Gordan, an eccentric writer who hasn't finished a novel in decades and paints birds obsessively. What begins as a dull summer immediately takes a turn towards adventure with the arrival of Edie's old beau, Horatio Macleay, and his handsome nephew. With WWII looming on the horizon, Agatha and her new group of friends race against time and across continents to complete their mission before it is too late. Along the way, Agatha learns the importance of trusting in the perfect timing of God and discovers the power of hope. 12+
-Book 2: Flight of the Seahawks
Newlyweds Piper and Peter return to Maine after Peter is injured on the North African front believing they are in for a quiet winter. When Aunt Edie sends them a mysterious manuscript, their vacation plans are pushed to the wayside. As the Adleman sisters struggle to find a place to call home, Peter and Piper must discover their new calling as the USA determines to remain neutral in the face of the rising Axis powers in Europe. 12+
-Book 3: Song of the Storm Petrel
Peter and Piper's quiet life on Honolulu comes to an abrupt close when Aunt Edie and Uncle Horatio arrive for a surprise visit along with the Adleman Sisters. With no foreseeable end to WWII in sight, Piper and her cousins learn to trust God in the unknown and in the process discover what really matters. 12+
Prize Package #3: Girl Reporter Series (Print Set, Value $19.98)
-Book 1: The Exclusive
While Piper waits for Peter to return from the war, a mysterious stranger arrives at Kingbarns. Meanwhile, Piper's skills are put to the test when she receives an assignment to photograph a Hollywood legend. In these troubled times, is anyone who they say they are? Do they have the courage to do what God asks? An adventure story set "in-between" Voyage of the Sandpiper and Flight of the Seahawks from "The Seabirds Trilogy" on the coast of Northern Scotland. Perfect for ages 11+
-Book 2: The Con Artist
In 1940, the discovery of a fabulous and near-forgotten necklace hidden at the Kingsbarns Estate in North Scotland, a house full of strangers, and the worst blizzard of the century add up to a holiday party that goes terribly wrong. Will the jealous greed of a conniving thief hijack the joy of Christmas, or drive Piper and those she loves to discover the true meaning of loyalty and friendship? Perfect for ages 11+
Thank you to our sponsor:
Hope House Press
is a family-run publishing house centered on Judeo-Christian values. We publish fiction, non-fiction, and educational material to encourage laughter, learning, and excellence. Our motto "Heal, Protect, Build, Nourish," encompasses our heart for the restoration of the family and our desire to become more like the Savior every day. Our goal is to provide quality stories that change lives, heal hearts, and give hope.
a Rafflecopter giveaway
It is your responsibility to read the terms and conditions upon entering. By entering, all entrants understand that they are subject to being added to each of the participating blogger's email lists.
More American History Movies
Civil Rights Movement up to September 11 (coming soon)
Be sure to follow my Pinterest board Middle & High School History. You'll get more great hands-on activities and ideas for teaching American History to your homeschool teens!
Don't forget to pin this post so you can refer back to it later!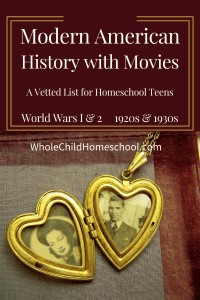 What historically accurate movies do you recommend?