Study Post War American History with Movies: 1945 to 1970
These Post-War American History Movies will bring the events and culture of the United States from 1945 up to 1970 to life for your teens!
Post-War American History is a time frame that is often skipped in traditional schooling because of time constraints at the end of the school year.
Post-war American history gets overshadowed by more popular history like Early American or the wars of American history. But this time frame is full of interesting innovations and events.
Following World War II, America solidified its position as the most prosperous nation on Earth. The fifteen years after the end of the war saw the beginning of the cold war and subsequently the space race. Learn more about the decades when everything was booming: babies, economy, the sound barrier, and modern conveniences.
Post-War American History Movies: A Vetted List
I selected these Post-War American History movies as appropriate for high school students (ages 14 and older). Some are rated R, mostly for violence, and they are noted.
Parents should preview any movie that they feel is questionable for their children, however, as family preferences may differ. Common Sense Media and Plugged In are helpful sources of movie reviews.
Also, be sure to check out these four ways to incorporate movies into your homeschool (beyond reading the book and watching the movie) in this post: How to Study American History with Movies for Homeschool Families
Some links in this post may be affiliate links. This means that if you click on them, I may make a tiny commission, at no extra cost to you. For more info, check our privacy policy.
---
Post-War American History Movies for Teens
1945 to 1950
42 2013 Pg-13. This biographical film tells the story of the integration of Jackie Robinson into professional American baseball. Chadwick Boseman stars as the title character. Currently on YouTube, Vudu, and Prime, as well as a few other streaming services.
The Chosen 1982 NR This is not the same as The Chosen series that is currently very popular. This movie is based on Chaim Potok's book, The Chosen. The book and movie are fictional, but I've included it here for two reasons. One, it does a good job of showing the struggles that immigrants faced following World War 2. And two, it portrays the differing opinions (even among Jewish families) about the establishment of a secular Jewish state-nation. (Isreal declared its independence in 1948). Highly recommend reading the book, The Chosen and its sequel, The Promise. Find it on for free on TUBI or rent it on Prime.
Brooklyn 2015 PG-13 Another fictional, but authentic look at the sacrifices made by families to send someone to America for a chance at a better life, but also the heartache in the separation. There is a very short sexual scene in this movie, you can read Focus on the Family's review for more information. This scene can easily be fast-forwarded. Still a worthwhile look at post-war immigration and the making of America's "melting pot" set in a pull-at-the-heartstrings story.
---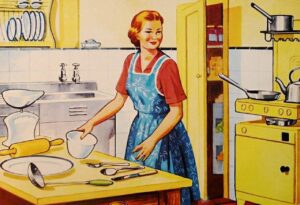 1950s Post-War American Movies
1950s American Culture
The following movies give a feel for the American culture of the 1950s. Most Americans were enjoying post-war prosperity but were also very concerned with anything hinting at communism (The Red Scare and McCarthyism). The Fifties also saw the birth of rock n roll and a huge interest (obsession?) with space and aliens.
Invasion of the Body Snatchers 1956 PG Some critics saw this movie as a response against communism while others felt it was more of commentary against conformity. Either way, it was a popular movie that spawned a huge interest in Sci-Fi movies. This movie also coined the term, "pod people". Stream it on Amazon, Vudu, and many other services.
The Crucible 1968 NR Look for the version starring George C Scott; it's an adaptation of the original play by Arthur Miller. There's also a French 1957 version and a 1996 one starring Daniel Day-Lewis and Winona Rider. Miller wrote the play as an allegory to the U.S. government persecution of individuals accused of having communist ties (McCarthyism). Stream it on Prime.
October Sky 1999 PG This movie is set in the late 1950s in West Virginia in coal mining country. It is based upon the true story of NASA engineer Homer H. Hickam, Jr. After seeing Sputnik fly across the sky, he becomes interested in rocketry despite his family's expectation to become a coal miner. Streaming on Hulu, Starz, and Prime, as well as many other services.
Blue Hawaii 1961 PG Beside communism and Sci-Fi, Americans were also enthralled with Elvis and beach movies. Just for fun, watch this Elvis movie so your kids can see what the baby-boomer generation of teens loved! LOL Watch for free on Sling, Pluto, and Prime.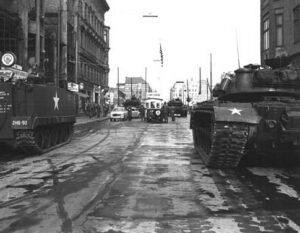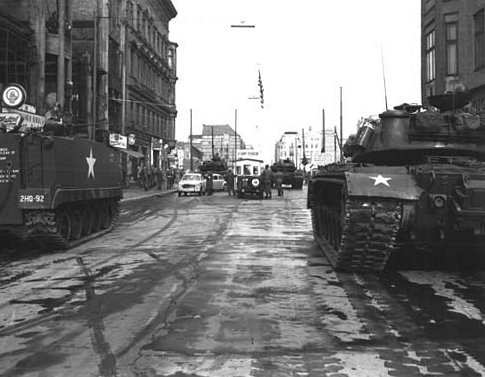 1950s Politics & Wars
Truman 1995 PG Look for the film starring Gary Sinise, not the documentary or the 2015 comedy with the same title. After Roosevelt died in office in 1945, Truman took over as POTUS. Many believed him to not be "up to the job," but years later, many thought he'd been a great president because of his integrity. Currently only available on DVD.
MacArthur 1977 PG Stars Gregory Peck as the title role. This biographical film looks at MacArthur's career as an Army General (1942 to 1952). He was relieved of his position by Truman for insubordination during the Korean war. Stream it on Vudu, Prime, YouTube, and most other services.
The Manchurian Candidate 1962 PG-13 Find the original version with Frank Sinatra and Angela Lansberry, NOT the 2005 one starring Denzel Washington. (I usually love Denzel Washington movies, but trust me, this isn't the one you want. The remake flips the entire plot around, making the capitalist country the evil villain and is rated R). This post-Korean war/ Cold War thriller further explores the concept of the "pod people" and should spark much political debate with your teens. Available on Hulu and Prime.
---
1960s Post-War American Movies
1960s Political Events
JFK 1191 R This Oliver Stone movie stars Kevin Costner and Tommy Lee Jones. It explores the theories surrounding the assassination of President Kennedy. It's long at 3 hours but should open the discussion with your teens about the various possibilities that people have proposed. Stream it on Vudu, Prime, and most other services. For more theories about JFK's death, watch Executive Action 1973 PG. Streaming on Vudu, Prime, and YouTube.
Bobby 2006 NR For more about the Kennedy family, watch this fictionalized account of the assassination of U.S. Senator Bobby Kennedy with the backdrop of the racial and sexual inequality tensions that were at the forefront during the late 1960s. Available on Prime, Google, and most other services.
13 Days 2000 PG-13 Thirteen very tense days followed the discovery that Russia had placed weapons in Cuba; only 90- miles from the United States during the height of the Cold War, known as the Cuban Missile Crisis. Stream on Vudu, Google, and Prime.
1960s Culture
Catch Me if You Can 2002 PG-13 Directed by Steven Speilberg and starred Tom Hanks and Leonardo DiCaprio, this film is based upon the true story of con artist Frank Abagnale. Frank pulled off some of the greatest scams before he even turned 22, (SPOILER ALERT) but was caught and brought to justice and reform. Available on YouTube, Google, and Prime.
Ring of Fire 2013 NR (Made for Television) is the biographical tale of Johnny Cash's career as a country music star. Despite his struggles with addiction, he remained a devout Christian. He was also an advocate for Native Americans during a time in which that was not politically correct, especially in the country music industry. Streaming on Vudu and Prime.
---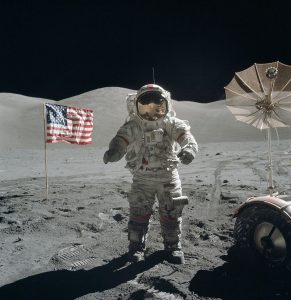 American History: The Space Race
The Right Stuff 1983 PG This epic (3 hours long) tale begins with the Russians launching Sputnik, a satellite, starting the Space Race between the United States and Russia. The first astronauts (Mercury 7) were pilots selected from an ultra-competitive field and most lived their personal life as recklessly as they did in the pilot's seat. John Glenn seems to be the only one with an unwavering moral compass.
This movie is PG by early 80s standards and today would probably be at least PG-13 for the cussing (an accurate portrayal, unfortunately). However, this movie is the best look into the lives of the national heroes that launched the American space program to the moon. Based on the non-fiction book, The Right Stuff, by Tom Wolfe. Stream on Vudu, Google, and Prime.
Apollo 13 1995 PG Only a year after man landed on the moon, a "routine" space mission became potentially deadly for the three men on board the Apollo. Based on the book, Apollo 13 (originally titled Lost Moon), by Jim Lovell, who was one of those three astronauts. Very accurate portrayal except for the argument between Swigart and Haise, which never happened in real life. Available to stream on most services, including Prime, but this is one you'll probably want to own.
Women of NASA
Hidden Figures 2016 PG This film is loosely based upon the work of three mathematicians who contributed enormously to NASA despite the challenges of a.) being women in a male-dominated field and b.) being persons of color when the United States was still mostly segregated.
Katherine Johnson, one of the main characters, recently passed away, and I'm so thankful that she was able to (very belatedly) receive the recognition that she deserved. Find the film streaming on Hulu, Sling, and Prime, as well as other services, but this is one that you'll probably want to own and re-watch.
If your teens are interested in reading the book that inspired the movie, Hidden Figures, I recommend the "Young Reader's version" over the adult one. It simply has more of a storyline and is less dry facts "non-fictiony" (I don't think that's really a word, but you know what I mean, right?) Check it out: Hidden Figures Young Reader's Edition by Margot Lee Shetterly.
Extension Activities
Add to your studies about the Space Race with our Rockets & Spaceships Unit Study and our Astronauts Unit Study for middle and high school students.
---
More American History Movies
Civil Rights Movement up to September 11 (coming soon)
---
Be sure to follow my Pinterest board Middle & High School History. You'll get more great hands-on activities and ideas for teaching Post-War American History to your homeschool teens!
Don't forget to pin this post about teaching with Post-War American History Movies so you can refer back to it later!
Tell us what historically accurate movies do you recommend?