Summertime Sensory Activities for Homeschooling Families
You know how your kids are getting more and more hyped up as the day progresses because it's too stinking miserable to go outside?
It's because they are craving some sensory input!
Learn how you can give them some summertime sensory activities.
We live in the Midwest where people say "It's not too bad out if it wasn't for the humidity." ALL. THE. TIME. For a reason. The humidity makes it miserable outside!
Many days, we can only stand to be outside for a while in the early morning. This means that by late afternoon, the kids are bouncing off the walls and need an outlet! Are your kids ever like that too?
Even if they can make a bit of a mess, sensory bins really can save your sanity at the end of a long day!!
Summertime sensory activities provide the sensory input that your kids need and crave on days when it's either too hot to go outside or your family just needs some time out of the pool and away from the screens.
Click here to learn how sensory bins help your child's development in 10 different ways.
Jump ahead to one of these Summertime Sensory Activities:
Exploding Fireworks Oobleck Sensory Bin
Some links in this post may be affiliate links. This means that if you click on them, I may make a tiny commission, at no extra cost to you, which helps to support this site.
Water Painting Sensory Play
This summertime sensory activity pretty much just takes water and paintbrushes and sidewalk chalk.
Yep, that's it! My kids have played with these 3 things for hours this summer!
I bought a package of cheap paintbrushes and sponges at the dollar store and let them "paint" the driveway. They extended the activity one day to "paint" their bicycles too.
One of my daughters has a really difficult time with tasks that require some hand strength, so I gave her a spray bottle from the dollar store to spray on the chalk pictures that she'd drawn to see what would happen.
On hot, sunny days, the water dries very quickly so you don't need a very big area for painting.
---
Sandy Beach Cloud Dough Bin
If you can't get to the beach, but still want to make sandcastles, then make this summertime Sandy Cloud Dough for your toddlers and preschoolers today.
It's super easy to create some mold-able sandy cloud dough to promote tons of fine motor hand strengthening and sensory work!
Learn how to make Sandy Cloud Dough here.
We used our Melissa and Doug Speck Seahorse Sand Ice Cream Set with our Sandy Beach Cloud Dough.
---
Exploding Fireworks Oobleck Sensory Bin
Learn How to Make an Exploding Sensory Bin of Goop Plus the Science Behind Non-Newtonian Fluids and Fireworks
Get all the instructions PLUS a mini unit study on fireworks and the Fourth of July in this post.
---
Bugs Sensory Bin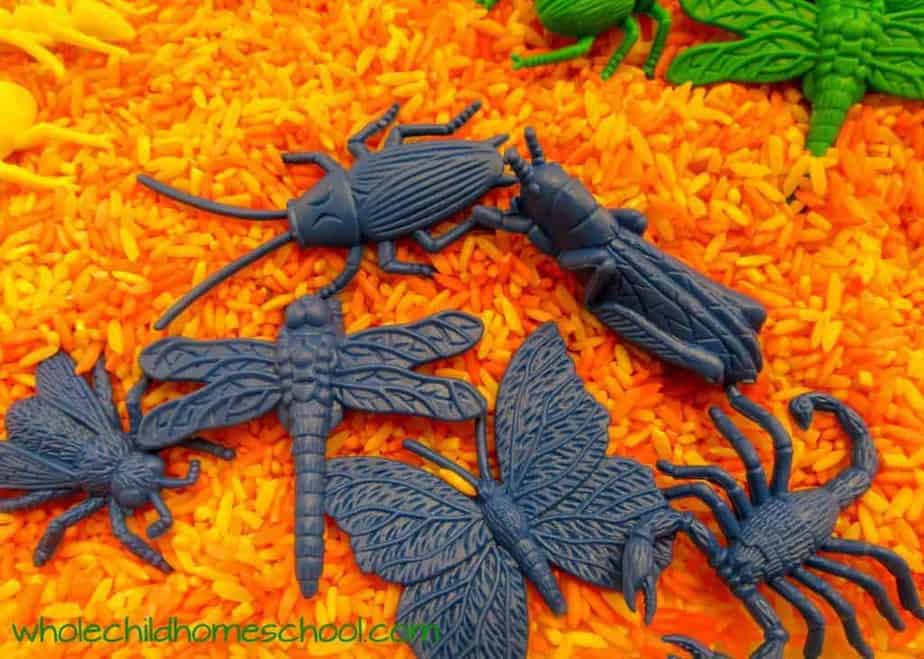 This cute bug bin is great for kids working on sorting by color or by attributes (types of bugs) and you can also teach your kiddos about which bugs crawl and which ones fly.
This bin starts with a large, shallow plastic tub. Then just add colored rice and plastic bugs!
Any color of rice or beans would work as the base filler for this simple bug sensory bin. I used a combination of orange and yellow rice.
Learn how to easy it is to color rice for your sensory bins.
Then add in some bug counters, or more realistic ones like these, or even some small plastic bugs from the toy section of the dollar store.
The dollar store often has bug-catching tools with a net and small plastic tweezers in the spring and early summer that would be a fun addition to this bin.
This summertime sensory activity used our bug counters that came in different colors for my preschooler to practice sorting and matching by color.
---
Everything Summertime Sensory Tray
A fun summertime sensory bin with EVERYTHING SUMMER included!
For this everything summertime bin, I gathered up everything we had that has a summery theme.
Here's a list of what I used, but you can use whatever you already have.
Paper cocktail umbrellas
seashells
real starfish
ice cream mini erasers
sharks mini erasers
starfish mini erasers
sun mini erasers
clear and blue glass baubles from the floral section of the dollar store
little strips I cut from an old towel to be "beach towels"
The mini erasers all came from the Target dollar spot this summer. The seashells are from our trip to the beach in 2008 (my big kids never get rid of anything!). The cocktail umbrellas were leftover from a different project as were the dried starfish. The dollar store and craft stores often have seashells and starfish in the wedding or floral departments.
---
Math Patterning Sensory Bin
If your kiddos need some extra practice with their math patterning skills, use these open-ended worksheets that use any mini erasers or other small objects that you already have around the house.
Sneak some math, logic, fine motor, and visual-spatial work into your sensory bin with these math patterning printables in 3 easy steps!
Learn more in the Summertime Math Patterns post here.
---
S'Mores Campout Sensory Bin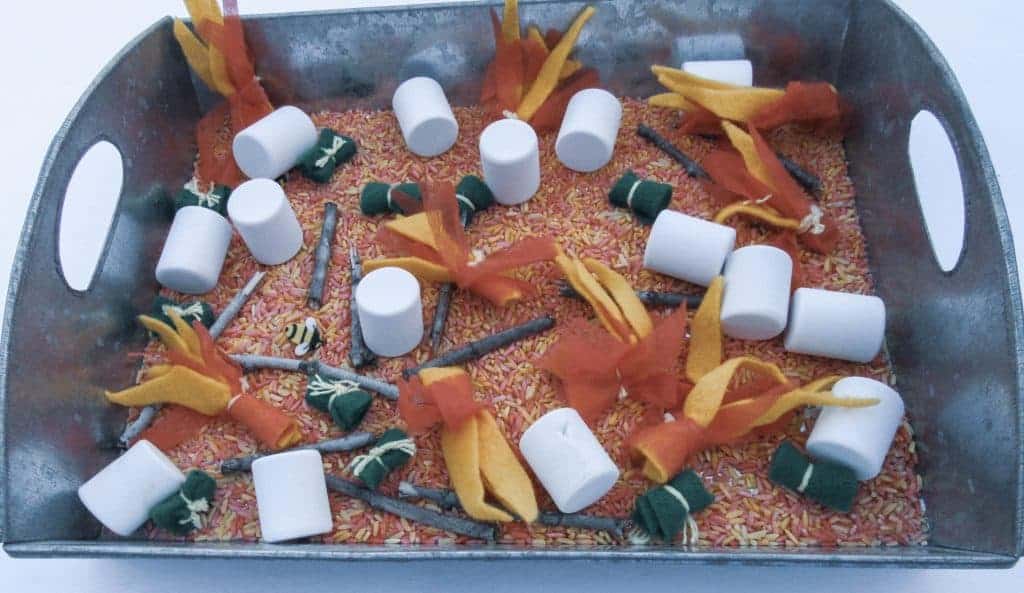 After my husband and oldest son built a fabulous fire pit out of rocks and mortar leftover from a retaining wall project, my big kids have had friends over all the time for bonfires. Which of course, made my little kids obsessed with playing "bonfire". So I made this S'mores Campfire sensory bin for them.
For this camping themed sensory bin, I used the orange and red rice from my "Bugs" bin above.
Learn how to easy it is to color rice for your sensory bins.
I made tiny sleeping bags by rolling 1 inch by 2 inch strips of felt and tying it with a piece of string.
Next, I cut out very thin strips of orange and red felt (sort of in thin triangles) as flames for the campfire. I tied those together with a piece of string also.
Then, I sent the kids outside to look for a few skinny sticks to break into 2 to 3 inch pieces.
Finally, I added the foam marshmallows which I found in the crafting section at Wal-Mart.
If you look closely, you can see teeth marks on one of the marshmallows where my son "tasted" it to see if it was real! 🙂
For more S'mores fun for your young learners, check out the S'mores Unit Study for Preschoolers
More Summertime Sensory Activities
---
---
Or check out the Summer Ocean Series on our sister site, Homeschool Helper Online.
Pin this to your favorite board so you can find it again! And be sure to follow my Summertime Learning board and Whole Child Homeschool on Pinterest for 1000s of Free Homeschooling Resources and Ideas!