Homeschool Curriculum Planning: Create the Best Plan for Your Family
Don't know where to start with your homeschool curriculum planning? Learn how to Create an Individualized Homeschool Curriculum Plan that Works for Your Family
Plus Free Printable Pages to Build Your Own Homeschool Planner
Homeschooling at its core is intended to be flexible and creative, as well as individualized. Our family's homeschool curriculum plan should reflect that.
If you are brand new to homeschooling, you may not realize that many of us homeschool moms embrace the "weird" label given to us by mainstream culture. It's because, just like you, we care more about our children's best interests than we do about strangers' opinions.
However, when many of us first began homeschooling, I think that we (especially those of us who were public schooled ourselves) tend to have more of a "school at home" style.
And then over time, we change our homeschooling style as we gain confidence in our abilities.
Because we are often a "think-outside-the-box" type of people, we slowly cultivate that "school at home" style into a more individualized, authentic and family-oriented method of instruction.
Getting out of the homeschool curriculum planning box
When my oldest was in third grade, we switched from a unit study style to a full, all-in-one boxed curriculum. (Looking back, I don't remember why and really wish I hadn't, but the oldest two still turned out okay, despite the boxed curriculum LOL.)
However, as time passed, I changed so much of the boxed lesson plans to fit my children's individual needs that only the basic structure remained. By the time that my third oldest was in third grade (nine years later), I was only using the living books from that boxed curriculum and was pulling together the rest of the plan on my own.
I love to plan (I'm an SLP, I can't help it!) so I plan out the entire year ahead of time.
Sounds crazy, right? Although it can seem daunting initially, it's so freeing when it's done!
I don't have to spend my Sundays planning for the next week or worry that we're three days behind because we all had the stomach flu. We just highlight each lesson as it gets completed, and then move to the next day on the chart. We don't worry about what day of the week it is, we just go through the plan day by day.
When all the lessons are highlighted, you're done for the school year.
I keep the highlighted lesson plans for my records to show what we've done—planning and record-keeping in one document!
If you'd like to have the same stress-free Sundays, try making your own lesson plans in advance. If the whole 36 week school year seems too much, start with just an 8-week set.
Homeschool Curriculum Planning: How to Create Your Individualized Family Plan
Decide upon a basic theme for the year
We like to use a history-based theme. That way everyone in the family is studying the same theme. Some possibilities include Eastern Hemisphere cultures, North American History, World History following the Reformation, or African History. Or you could select a type of literature or science study as your family theme.
Determine Family School and Individual Study Topics
What topics will you study together as a family? Some families use a morning time basket or an afternoon tea time as a way for everyone to learn together. Others just call it kitchen table schooling or family schooling.
Whatever your family calls it, gathering together has so many amazing benefits. Read this article about Family-Style Homeschooling to see how easy it is to gain the positive aspects of studying together as a family.
Many homeschoolers like to study the same general history along with a read-aloud book and fine art appreciation.
This family schooling time makes planning much easier! Use this weekly family school schedule from the Free Resource Library to plan out which subjects you'll study on which days.
Not a member of the Whole Child Homeschool Tribe yet? Use the bright pink box below to sign up and get immediate access to the Free Resource Library.
Set Goals
Make a list of the goals you have for each of your children for the next year. Then have your kids make lists of their own goals and the activities in which they'd like to participate next year. Finally, talk with each child and select which activities are the most important for this year. This can help you set your priorities and make plans for extra-curricular activities.
Seek Guidance and Advice
Chat with other homeschooling parents to see what programs, books, and curriculum they've used in the past and what their experiences were. What is a terrific excuse to get together and spend some time with fellow homeschooling friends!
Let God lead you in the direction He wants you to go. If you are religious, pray about your plans and decisions for next year.
Select all of the resources that you plan to use
I'm a visual learner, so I make a special Pinterest board to gather and easily see all of my ideas for the year. Be sure to include individual unit studies, hands-on activities, lap-books, notebooking resources, DVDs, and audiobooks, not just textbooks and workbooks.
Don't forget the importance of sensory bins and fine and gross motor activities, especially for younger ones. And how using movies with your middle and high school kids can help them retain information.
Gather all of your curriculum and ideas together. Jot down your ideas for each term during your brainstorming session on the Family School and Individual Student planning forms for Brainstorming in the Free Resource Library.
Create a basic outline of when each child will study each subject during the week
I like to go "old-school" for this and use colored pens and paper ('cause I'm a color marker nerd!), but a spreadsheet would also work well for this task.
Just make a chart like this one from the Free Resource Library with days across the top and each subject down the side. Look at the table of contents for the number of lessons or add up the number of activities you want to accomplish in each subject. Divide that by 36 weeks (the typical number of weeks in a school year) and that tells you how many times that subject needs to be studied per week.
For example, I know we need to have math 4 times a week, but we'll only do dictation twice weekly. I make an X in the box to show which days we'll study that subject. Check out the sample copy of the Individual Student Weekly Schedule in the Free Resource Library.
Think about your extra-curricular activities, too, when making this chart. If you know you always have piano lessons and an outside Spanish class on Thursdays, you will want to make Thursday's plan a little lighter.
---
Make lesson plans for the year
What?!! I know that sounds crazy, but trust me! It's much easier than it sounds.
Just make 36 copies–one for each week– of the chart you made in the above step and start plugging in lesson numbers, names of books to read, etc. I use the "save as" function in my word processor to make this part go much faster.
As an example, here's a copy of my son's 6th-grade lesson plan from week 22. (That year, we only did Bible for our morning time together. There's a large age gap above him and another large gap below, so he was the only one I schooled that year.) Hole punch and place in a small 3-ring binder.
Get blank copies of the Weekly Lesson Plans for Individuals and the Family School Weekly Lesson Plans from the Free Resource Library.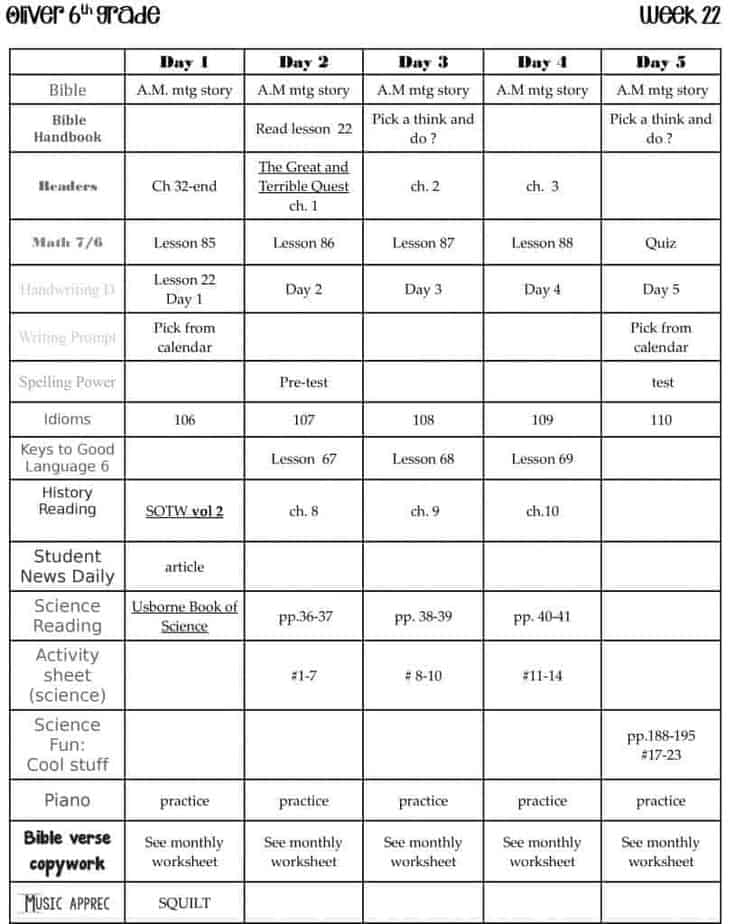 Add "something that matters" to your plan
This is a great way to meet some of the non-academic goals you've set for the year. Some seasons of your life, this might mean volunteering for a leadership position in your church or homeschool co-op.
Other seasons with high schoolers might mean adding in more community service. Here are community service and leadership ideas for your high schooler.
For others with lots of little ones, that might just be making sure that you are refilling your own bucket regularly. Or it could even simply mean making your homeschool time a greater priority and cutting back on outside activities.
Add in additional documents to your homeschool planner
I like to keep a year-at-a-glance calendar in my binder as well as a few other pages. For example, I keep a log sheet for my teens to jot down any volunteer work.
Grab your own copy of my volunteer hours log from the Free Resource Library to help your teens keep track of their volunteer hours for scholarship applications.
I also like to keep a paper copy of schedules for outside lessons or practices, just as a backup to my phone calendar. Our family uses the free version of Cozi; all of us with phones can access it and update it, plus it color codes everyone, which is a huge help for large families like ours!
I hope these steps will help you to create your homeschool curriculum plan!
Get all of these printables (and more!) in one convenient click with the Ultimate Homeschool Mom Planner!
More Ideas to Help with Your Homeschool Curriculum Planning
---
---
Follow my Homeschool Hacks Pinterest board for more homeschooling tips and tricks! Comment below and share your favorite homeschool planning tip!
Pin this to your favorite board so you can find it again next year.
This post contains content from two articles I originally wrote for homeschoolhelperonline.com Reused with permission.