Learn how to make these four different non-scary Halloween sensory activities. And give your kids the sensory input that their bodies are craving.
With sensory input, your kiddos will be better able to focus on learning.
Our family doesn't do scary, creepy Halloween for many different reasons.
The two main factors that changed our thinking and our family's Halloween traditions are these:
One, when we first brought our youngest three home from foster care, they were irrationally terrified by scarecrows, witches, and sharks. So we weren't able to have any Halloween decorations out for a couple of years.
They are able to enjoy scarecrows and spiders now in our fall decorations. And the occasional bat or mouse. We love fall and love to decorate the house. 🧡
Secondly, we've noticed in the last 10 years or so that Halloween has fundamentally changed since my husband and I were kids. When we were growing up, Halloween was only about wearing a costume and getting candy.
Lately, though, it seems that our Halloween traditions are being replaced with something much more sinister. So, for our family, we've chosen to celebrate with costume contest parties or Uncle Marty parties (to celebrate The Reformation, which is also on October 31).
What's right for our family may not be what's right for your family–no judgement here. I just want to share with you some non-scary Halloween options in case gory or scary Halloween objects are too much for your kiddos. 🧡
---
---
Jump ahead to one of these Non-Scary Halloween Sensory Activities:
Some links in this post may be affiliate links. This means that if you click on them, I may make a tiny commission, at no extra cost to you.
Fall Math Patterning Sensory Tray
The Fall Math Patterns Practice worksheets have 10 different levels of difficulty for your kids to work their way through.
And you can use any little objects like mini erasers, counters, or even M&Ms!
For instructions on how to get started using the Fall Math Patterns worksheets, watch this video from this past summer, where I show my youngest how to do a simple ABAB style pattern.
Grab your copies (it's FREE!) of the Fall Math Patterns Practice Worksheets from the Free Resource Library.
Or get all 10 levels of the Fall Math Patterns Practice Worksheets in one convenient downloadable packet!
---
Up-Cycled Jeepers Peepers Sensory Tray
Create some silly monsters with items from your recycling bin!
I used bread bag fasteners, pouch tops and leftover Easter eggs from last spring along with some googly eyes from the dollar store. You could also sue clothespins or water bottle lids.
I found that glue dots worked best for gluing the eyes onto the plastic pieces.
I added in some sparkly pompoms from the Halloween craft aisle at the dollar store and red and yellow colored rice for scooping.
Learn how easy it is to color rice for your sensory bins.
This bin is best for children who no longer explore items with their mouth due to the choking hazards with the googly eyes.
---
Non-Scary Halloween Sensory Bin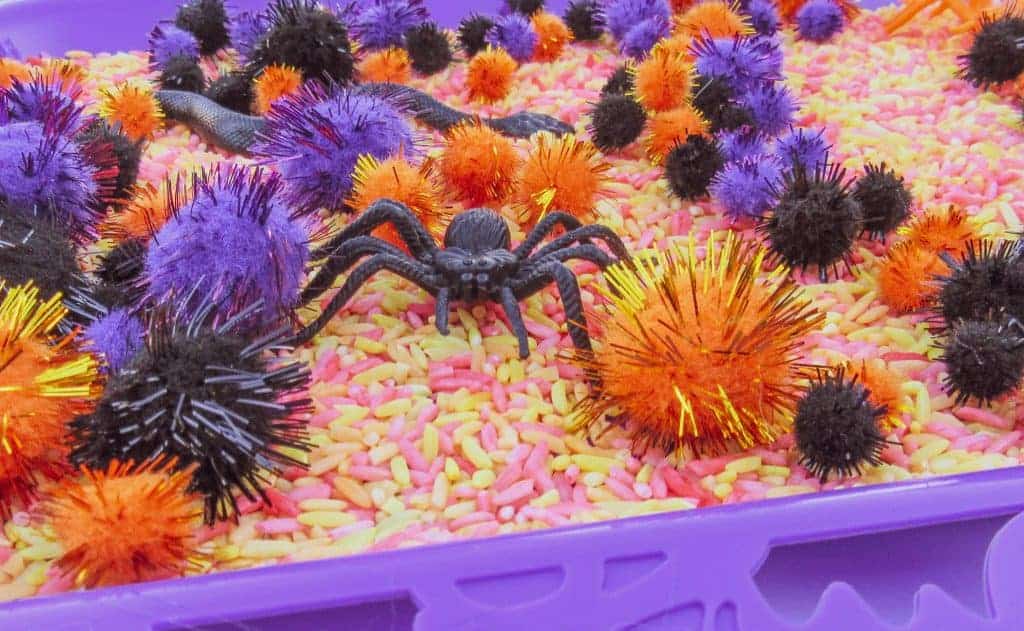 This super simple and non-scary Halloween sensory bin has yellow and red colored rice for a base. (Re-used from my S'mores Campout sensory bin).
I found the purple Halloween tray at my local dollar store.
Learn how easy it is to color rice for your sensory bins.
Throw in some Halloween colored pompoms (purple, orange, and black) from the dollar store along with a few plastic snakes and spiders (that I found in a non-candy Halloween party favor bag at Wal-Mart).
---
Non-Scary Halloween Sensory Writing Tray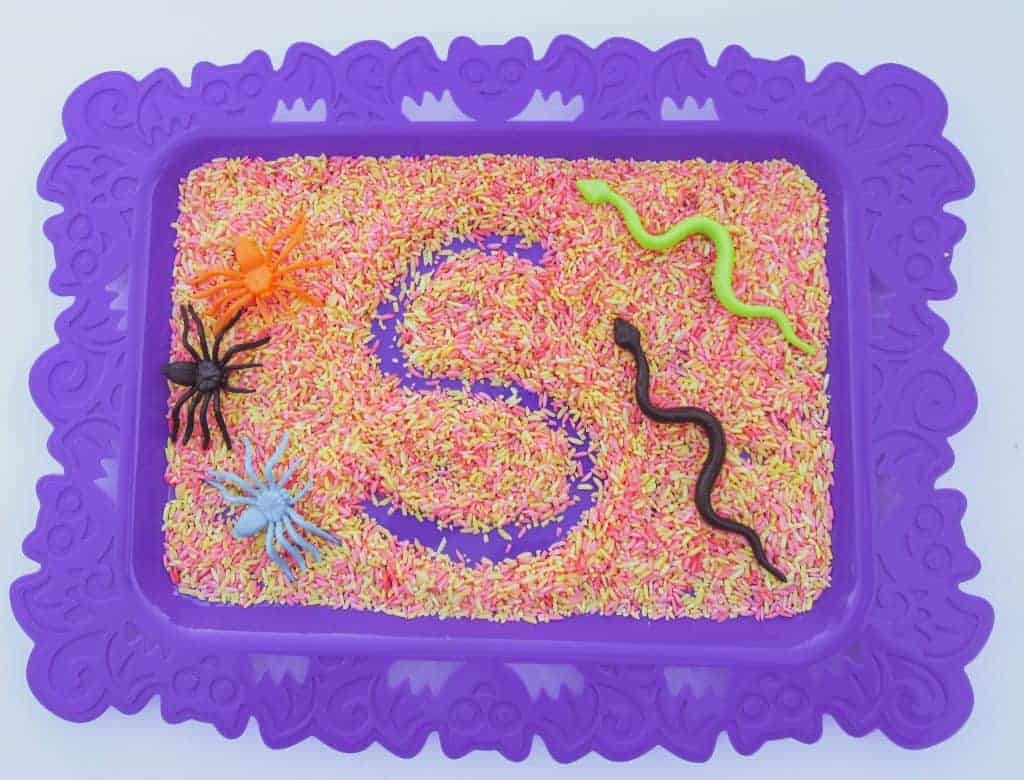 Use the same base of colored yellow and red rice as the Non-Scary Halloween Sensory Bin but without the pompoms for a fine motor writing tray.
Let your student write their spelling words or the letters they are working on with a plastic snake as a writing tool.
Learn how easy it is to color rice for your sensory bins.
---
More Fall Sensory Activities
Fall Sensory Activities for Homeschool Families: Create 5 different fall sensory activities: nature, s'mores, pumpkin spice, fall harvest, and pumpkin guts exploration.
Want to color rice for your sensory bins? It's easy! Learn how here.
Do you ever wonder why sensory bins are such a big deal when it seems like all they do is make a huge mess? Find out why here.
Pin this to your favorite board so you can find it again!
And be sure to follow my Fall & Autumn Homeschooling Board and Whole Child Homeschool on Pinterest for 1000s of Free Homeschooling Resources and Ideas!