Oregon Trail Unit Study for Early Learners
A Family-Style Oregon Trail Unit Study for Homeschoolers' Morning Time and Family School
This Oregon Trail Unit Study is generally for students at the preschool to second-grade level.
Feel free to add in older students or mix and match with the Upper Elementary and Middle to High School posts to find activities that best suit your children and their learning styles.
This Oregon Trail unit study uses Living Books, and hands-on STEAM activities along with English Language Arts, History, Fine & Gross Motor, Poetry, and Folktales.
In this Oregon Trail Unit Study, your students will learn:
Learn how to filter water
Play with Platte River sand
Learn new vocabulary like "heirloom" and "landmark"
Measure the size of a prairie schooner
Build your own model wagon
and much more!
Some links in this post may be affiliate links. This means that if you click on them, I may make a tiny commission, at no extra cost to you.
Oregon Trail Unit Study: English Language Arts
Read Aloud Living Picture Books
Apples to Oregon: Being the (Slightly) True Narrative of How a Brave Pioneer Father Brought Apples, Peaches, Pears, Plums, Grapes, and Cherries (and Children) Across the Plains by Deborah Hopkinson and illustrated by Nancy Carpenter is a cute "tall tale" of a family that takes fruit trees across the Oregon Trail to start an orchard in the Oregon Territory.
Kids will appreciate that Delicious, the daughter, comes up with ways to save the trees whenever disaster strikes. The illustrations in this book really help to highlight the humor of the book and warrant a second reading just to focus on them!
A Book for Black-Eyed Susan by Judy Young and illustrated by Doris Ettlinger is a sweet tale that portrays a tragedy in a sensitive and gentle way. Many of the people traveling across the Oregon Trail experienced tragedies resulting from accidents and disease as they traveled. This book is a good way to introduce the characteristics of endurance despite setbacks, a family's love for one another, and can be used for starting a conversation about the death of a loved one.
Minnow and Rose: An Oregon Trail Story by Judy Young and illustrated by Bill Farnsworth is a lovely story about a short friendship between two girls from different cultures who meet at a river crossing. This fictionalized account is based upon documentation that Native Americans often helped the "overlanders" get their wagons safely across the rivers.
Independent Readers
This Stepping Stones book, Pioneer Cat by William H. Hooks, is about a nine-year girl whose family is traveling along with a large wagon train to Oregon. Kate has to hide her cat, Snuggs, because pets aren't allowed on the trip. This beginning chapter book is written at a 2nd to 3rd-grade reading level.
Rescue on the Oregon Trail by Kate Messner is the first book in the Ranger in Time Series. Ranger is a time-traveling golden retriever that has gone back to 1850 and helps the Abbot family get to Oregon safely. This book does a great job of accurately portraying the Native Americans as peaceful and helpful.
Native Americans didn't begin fighting back against the settlers until later in the 1850s and 1860s after the United States had pushed them off of their lands and destroyed their way of life. The Ranger in Time series is a beginner chapter book at a 2nd to 3rd-grade reading level.
Read Aloud Living Books
Pick one of the two following books for a read-aloud.
This Dear America series book, Across the Wide and Lonesome Prairie by Kristiana Gregory, tells the story of Hattie Campbell crossing the continent along the Oregon Trail in 1847. She begins her journal on her 13th birthday in Boonville, Missouri, a small town on the Missouri River, halfway between St. Louis and Kansas City. Be sure to check out the historical notes and photos at the end of the book.
Bound for Oregon by Jean Van Leeuwen is a story about Mary Ellen Todd, a nine-year-old girl who really did travel on the Oregon Trail. This book is based upon the book written by Mary Ellen's daughter, who wanted to preserve her family's story. When Mary Ellen's family made the long journey to Oregon, the exaggerated stories of Native Americans attacking settlers were circling the country, in part because of the Whitman Massacre (see the History section of the Oregon Trail for Upper Elementary Learners for more information about the Whitmans).
Folktale
Many of the emigrants became farmers after arriving in Oregon where they grew apples, peaches, and wine grapes. This Hungarian folktale is about a princess who wishes for a talking vine, a smiling apple, and a jingling peach. Watch the story told by "Hungarian Folktales"
Literary Analysis
Have your student draw a picture of the setting of the book that your family used as a read-aloud for a literary analysis of that book. Use the Oregon Trail Literary Analysis worksheet for Early Learners in the Free Resource Library.
Writing
Use the Oregon Trail Early Learners Research Writing worksheets from the Free Resource Library. The pdf file contains both a pre-writing worksheet and a final draft printable.
Start by reading the book If You Traveled West in a Covered Wagon by Ellen Levine to learn some facts about traveling on the Oregon Trail.
Next answer the questions on the pre-writing page. This will help your students organize what they learned in the book into ideas for their writing paper.
Finally, have them write 3-4 sentences on the writing page about traveling on the Oregon Trail, using the pre-writing page to help with spelling and content.
Poetry
The pioneers couldn't leave in the early spring until the grass had greened up enough that the livestock would have something to eat on the journey. Have your students learn this poem from the Song of Solomon (chapter 2, verses 10-13, NIRV).
He said to me, 'Rise up, my love.
Come with me, my beautiful one.
Look! The winter is past.
The rains are over and gone.
Flowers are appearing on the earth.
The season for singing has come.
The cooing of doves
is heard in our land.
The fig trees are producing their early fruit.
The flowers on the vines are giving off their sweet smell.
Rise up and come, my love.
Come with me, my beautiful one.' "
Grammar
Copywork and narration are a real-life way to work on grammar skills. Use the Oregon Trail Early Learners Copywork and Narration page from the Free Resource Library.
After your child has written the sentence from dictation, let her see the original to check it with her work. Have her correct her work, so that she knows how it should look.
Not a member of the Whole Child Homeschool Tribe yet? Scroll up to the dark pink box above to sign up and get immediate access to the Free Resource Library.
As an extension of the narration, have him find the nouns in the sentence, then turn the nouns into plurals, if they are singular, and into singular if they are plural. For example, turn "Rockies" into "Rocky".
Phonemic Awareness
This week, read the book Covered Wagons, Bumpy Trails Verla Kay to help your preschoolers and kindergarteners with their reading readiness by focusing on rhyming words.
Spelling
Research shows that kids retain information well when they are moving around, so try this kinetic spelling practice. Write out the vowels (a,e,i,o,u) on five round pieces of paper to represent buffalo chips–which were EVERYWHERE on the prairie. Place the papers on the floor. Then have your kids spell their spelling words and jump onto the vowel(s) when they say it.
Vocabulary
Use the Oregon Trail Easy Vocabulary from the Free Resource Library to learn new Oregon Trail words like "heirloom" and "landmark". You can use the vocabulary words as spelling words, as a word wall to practice copywork, or as flashcards to work on memorizing definitions or just making sure that they understand the concepts.
Get all of the printables for all levels of the Oregon Trail Unit Study in one convenient download!
Oregon Trail Unit Study: STEAM
Science
Preschool
The emigrants traveled through many different environments as they made their way to Oregon: grasslands, deserts, mountains, and temperate rainforest. Use the printable animal habitats pages from Kiddy Charts to sort animals according to where they live.
Elementary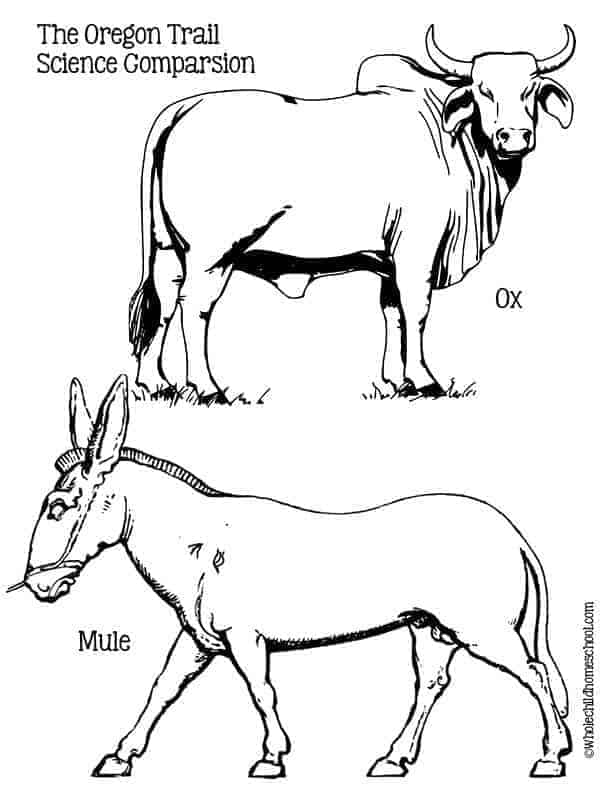 The emigrants chose mules or oxen to pull their wagons instead of horses. Learn why mules and oxen were a smarter choice for the 2170 mile trip in the book, The Oregon Trail by Karen Bush Gibson (on pages 64-65), or another non-fiction book about the Oregon Trail from your local library, or this page from The National California/Oregon Trail Center.
Use the Oregon Trail Science Comparison worksheets from the Free Resource Library to show what you've learned.
Not a member of the Whole Child Homeschool Tribe yet? Scroll up to the dark pink box above to sign up and get immediate access to the Free Resource Library.
Next, talk about the differences between cattle and oxen.
Find out what mules are here.
Learn more about oxen at these pages from Living History Farm near Des Moines, IA, and the Miles Smith Farm. (btw, if you live within 6 hours of, or will be driving through Des Moines, Iowa, the Living History Farms are amazing!! We did all of the available tours (1700 Native American "farm", 1850 pioneer farm, the 1900 farm, and the 1875 town and spent a wonderful day visiting with the reenactors and learning about farm life in the 18th, 19th, and 20th centuries.)
Technology
People traveling by wagon couldn't carry much water with them each day because water is heavy! They had to rely on finding good water sources each day for their own needs as well as the oxen, mules, and cows with them.
Many of the emigrant's journals describe the difficulty of finding clean water and having to drink dirty, gritty water that may or may not have been safe to drink. In the United States, we are lucky to have clean, safe water!
See what it's like to filter water with this experiment from Teach Beside Me.
Engineering
My littles (preschool, kindergarten, and first grade) LOVED making a covered wagon out of our red wagon with pool noodles and a sheet. They had a great time using it as a pretend play prop along with a pretend campfire and lantern. We followed these directions from Line Upon Line Learning.
If your kids aren't into pretend play anymore, make some wagons that will float.
Why would you need a floating wagon? When crossing deep rivers that didn't have a ferry crossing, the emigrants had to float their wagons across while the animals swam.
You can either cut the top off of a rectangular facial tissues box to make a wagon or build your own. To make your own, cut out a rectangular piece of chipboard (like a cereal box), then cut out small squares from each corner like the picture below (cutting out on the dotted lines).
Next, fold your chipboard along the lighter inside square so that it makes a shallow box. Tape the sides so they stay up.
Then ask your kids what they think they would need to do to make it float? What would happen to it if they put it in the water right now? (The chipboard would get soggy and sink).
Explain that the wagons had to be water-tight in order to float. If they aren't sure how to make their wagon waterproof, suggest putting something over the chipboard, like duct tape. Let them experiment to see what works and what doesn't.
Art
Fine Arts
Albert Bierstadt was born in Prussia in 1830 and moved to the United States with his family when he was one. He painted very detailed, romanticized landscapes, mainly of the American West.
Bierstadt often used luminism, a glowing lighting appearance, in his work. Unlike many artists, he achieved financial success during his lifetime but was largely forgotten after his death in 1902.
For art appreciation this week, look at the many details and luminism of his painting, Emigrants Crossing the Plains, or The Oregon Trail.
Practical Arts
The emigrants took dried fruits with them because they are lighter than fresh fruit and last longer. Make some dried apple slices for a snack. Use this recipe from She Loves Biscotti.
Math
Despite the popular notion that the wagon trains used Conestoga Wagons, the emigrants preferred the smaller "prairie schooners".
Prairie Schooners got their name because they looked like boats with white sails floating across the wide prairie as they moved through the very tall prairie grass (buffalo grass grew six feet tall). Prairie schooners were usually painted bright blue with red wheels and were four feet wide by ten feet long.
Let your kids measure out a ten-foot by four-foot rectangle on the floor with some painter's tape. Talk about how the emigrants had to fit ALL of their belongings into that space. Ask your kids if they think they could fit everything they needed into that space if they were going to move across the country.
Oregon Trail Unit Study: History
Read the books If You Were a Kid on the Oregon Trail by Josh Gregory and Wagons, Ho! Then and Now on the Oregon Trail by George Hallowell to get an idea of what it was like for kids traveling on the Oregon Trail.
Next, let your kids act out a day in the life of a family traveling to the Willamette Valley of Oregon. If you made a pool noodle wagon for your engineering project, be sure to use it for your skit.
Oregon Trail Unit Study: Music
Francis Scott Key wrote the poem "Defense of Fort McHenry" during the War of 1812. Learn more about why he wrote it and how it became the "Star-Spangled Banner" in this Free School video. Then, watch this video from Tom Callinan to hear all four verses.
Oregon Trail Unit Study: Devotions
The emigrants had to have an enormous amount of sheer determination to make it to Oregon. They also must have had faith, courage, perseverance, and optimism, all good character qualities to have when you are setting out on a journey and you don't know what you'll encounter, or if you'll even make it there.
Look up these Bible verses and see if your kids can match up the Bible verse with the character qualities above.
Romans 8:28
Psalm 18:31-32
2 Corinthians 4:18
Hebrews 10:36
Oregon Trail Unit Study: Gross and Fine Motor
Fine Motor
One of the most important things the emigrants took with them was salt. They needed salt to preserve meat since refrigeration hadn't been invented yet! Make a fine motor writing tray with table salt like the one pictured below to practice letters or sight words.
Gross Motor
Children were often given the chore of hauling water from the creek for the family's daily needs. Give your child a bucket (like a sand pail from the beach) of water to see how far they can carry it. Are they glad they don't have to carry all of the family's water every day?
Oregon Trail Unit Study: Sensory & Body Awareness
Emigrants recorded in their journals that the Platte River was more sand than water. Make some Platte River sand to play with. Combine 4 cups of play sand with 2 cups of cornstarch. Then add 2 cups of water to create a fun river sand sensory experience.
If your kids like to take brain breaks in between school subjects, check out this song from Raffi, Bumping Up and Down in My Little Red Wagon. Most of the emigrants on the Oregan Trail walked because it was too bumpy to ride in the wagons.
More Ideas for Your Oregon Trail Unit Study
Be sure to follow my Pinterest board US History: Westward Expansion for more great hands-on activities and ideas for your Oregon Trail unit study!
And most importantly, pin this post so you can refer back to it during your Oregon Trail unit study for early learners.