Lewis & Clark Unit Study for Upper Elementary Learners
A Lewis and Clark Family Style Unit Study for Homeschool Morning Time and Family School
This Lewis & Clark Unit Study is generally for students at the 3rd to 5th–grade level.
To add in younger or older students for a family-style unit study, see the Lewis & Clark Early Learners and Middle to High School posts.
This Lewis & Clark unit study uses Hands-on STEAM activities along with English Language Arts, History, Biography, Fine & Gross Motor, Poetry, and Folktales.
In this Lewis & Clark Corps of Discovery Unit Study, your students will learn:
Learn how to use a compass
Make salt
Practice mapping "to scale"
Learn how to write a biographical report
Learn how to "dead reckon" distances
Make skillet biscuit bread
And much more!
And learn new vocabulary with original, hand-drawn vocabulary cards and so much more!!
Some links in this post may be affiliate links. This means that if you click on them, I may make a tiny commission, at no extra cost to you.
Lewis & Clark English Language Arts
Read Aloud Living Books
Streams to the River, River to the Sea by Scott O'Dell is historical fiction based upon Sacagawea's life and the integral part she played as interpreter and guide for Lewis and Clark's expedition. Your upper elementary kids will love this story by one of my favorite authors (he also wrote Sing Down the Moon and Island of the Blue Dolphins). Audible also has the audiobook version.
The Captain's Dog by Roland Smith looks at the Lewis and Clark expedition from the perspective of Lewis' dog, Seaman. Seaman was a 140 pound Newfoundland retriever and was an invaluable member of the expedition. This fictionalized account is based heavily on Lewis' personal diary of the journey and includes excerpts from that original source. The audiobook version is also available on Audible.
Living Books Independent Readers
Sacagawea: American Pathfinder by Flora Warren Seymour is from the Childhood of Famous Americans series. This book begins as an imagined account of what Sacagawea's life was like before the Lewis and Clark Expedition. This book has been republished under the name Sacagawea: History's All-Stars, it's the same book and same author, just with a different cover and name. This is the same book that the early learners are using for read-aloud. If you have a strong enough student, consider having them read it aloud to their younger siblings.
My kids' favorite book of this unit was The Lewis and Clark Expedition by Richard L. Neuberger (not to be confused with the Kaleidoscope Kids Book by the same name by Carol A. Johmann, which is also used in this unit study). This book is very engaging, especially for kids who like adventure stories. Sonlight carries this book and Amazon has inexpensive used copies.
As Far As the Eye Can See: Lewis and Clark's Westward Quest (Landmark Books) by Elizabeth Cody Kimmel and Meet Thomas Jefferson (Landmark Books) by Marvin Barret are shorter and easier readers than the Sacagawea and Lewis & Clark selections. However, in my opinion, they also have less of a narrative storyline and are written more as true biographies.
There are two books in the very popular Who was…? and What was..? history series that coordinate with this unit study and are at an upper elementary reading level. I definitely wouldn't consider them to be "living books", however, your students may still enjoy them. I would advise looking through them first as this series oftentimes has some revisionist history. Most libraries carry this series: Who was Sacagawea? What was the Lewis and Clark Expedition?
Folktale
The Great Ball Game from Circle Round Podcast is a version of a folktale that comes from the Cherokee, Creek, Ojibway, and Menominee peoples of North America. Be sure to print out the coordinating coloring page (the link is at the bottom of this page) for the kids to color while they are listening.
Literary Analysis of a Biography
Use the Lewis and Clark Biography Report Form for a literary analysis of the book you chose as your independent reading selection. Biography literary analysis consists of telling some facts about the person, plus opinions about the book. You can get the Lewis and Clark Biography Report Form for Upper Elementary from the Free Resource Library. Then have your student complete the form for either Thomas Jefferson or Sacagawea.
Writing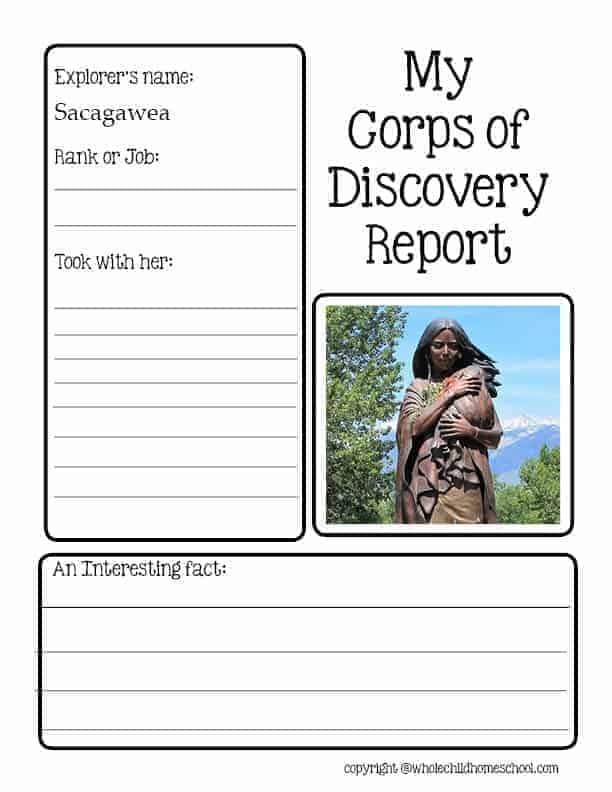 Research: We used The Lewis and Clark Expedition (A Kaleidoscope Kids Book) by Carol A. Johmann as our spine for researching five key historical figures from the expedition. Going Along With Lewis & Clark by Barbara Fifer is another good source. Most non-fiction books about the expedition from your local library should cover the information your child needs for this research writing project.
Grab the Corps of Discovery Report Forms for Upper Elementary from the Free Resource Library for your students to complete.
Poetry and Memorization
If your family includes memorization in your weekly work, I suggest learning this Thomas Jefferson quote from The Declaration of Independence:
Now, I understand that Thomas Jefferson is often vilified because he was a slave owner. But, on the other hand, he also wrote these words that ultimately allowed slavery to be outlawed.
We hold these truths to be self-evident: that all men are created equal, that they are endowed by their Creator with certain inalienable rights, that among these are life, liberty, and the pursuit of happiness.

Thomas Jefferson, The Declaration of Independence
On September 20, 1806, Day 860 of the Corps of Discovery Expedition, Clark recorded in his journal that they had seen a cow along the Missouri Riverbank. A loud cheer went up from the men because they knew that the sight of a cow meant they were close to civilization once again! Have your kids learn Robert Louis Stevenson's ode to domesticated bovines everywhere, The Cow.
Grammar
Copywork and narration are a real-life way to work on grammar skills. Use the Lewis and Clark Narration for Upper Elementary from the Free Resource Library.
After your child has written the sentence from dictation, let her see the original to check it with her work. Have her correct her work, so that she knows how it should look.
As an extension of the narration, have him find the prepositional phrases, adjectives, and adverbs in the sentences. My kids loved the grammar videos from School House Rock to help them remember the parts of speech.
Spelling
Try this hands-on spelling practice for your kinetic learners. Place either play-doh or kinetic moon sand in a tray or plastic pencil case. Next, use alphabet stamps to make words in the play-doh or sand.
Vocabulary
Use the Upper Elementary Lewis and Clark Vocabulary Cards from the Free Resource Library to learn new Lewis and Clark words like "specimens" and "tributaries".
Your children will also learn the difference between botany and biology. You can use the vocabulary words as spelling words, as a word wall to practice copywork, or as flashcards to work on memorizing definitions or just making sure that they understand the concepts.
Did you know that you can make your homeschool life super simple with one download? Just buy The Lewis & Clark Unit Study Curriculum Bundle!
This bundle includes all of the printables available in the Free Resource Library in ONE download PLUS BONUS vocabulary worksheets and answer keys that are not in the Free Resource Library.
You will also get 10 days of daily lesson plans all laid out in an easy-to-understand chart with a printable book list and direct links to all of the videos, podcasts, and activities.
Lewis & Clark STEAM
Science
The 122 animals that Lewis and Clark cataloged on their journey all belonged to the Kingdom Animalia, Phylum Chordata, which just means that they were all animals with spines (or vertebrae).
Watch this video from FreeSchool to learn how animals are classified. Next, print out the free phylum and animal category cards from Adventures in Mommydom. Finally, let your students sort out the animal cards into different phylum.
Lewis and Clark didn't really believe that the grizzly bears described to them by the Native Americans were really any different than the black bears found in the Appalachian Mountains. They soon learned however that the grizzly bear (often described by Lewis and Clark as the "white" bear) was much larger and more dangerous than the black bear.
They recorded that they saw a grizzly bear track that was three times larger than a man's footprint!! Learn to identify the tracks made by common North American animals. Use the information from the Missouri Conservation Department, this printable from StudyWorksOnline, and the Old Farmer's Almanac.
During the long winter at Fort Clatsop, the men made salt from ocean water to preserve their meat. Read about the process they used in this article from The Corps of Discovery (Army History).
Learn more about the location of the salt works and how the process took several weeks in this Discovering Lewis and Clark article. Finally, see how you can try to desalinate ocean water in this experiment from STEAM Powered Family.
Technology
Lewis took a sextant to determine latitude, a chronometer to calculate longitude, and a compass to tell directions.
His chronometer quit working, however, so he relied upon a method that used the stars to measure where the expedition was and how far they'd traveled each day. This was very complicated, however, so he mostly just estimated the distance traveled. At the end of the journey, he was only off by 40 miles in his calculations!! Isn't that amazing?
The Lewis and Clark Expedition (A Kaleidoscope Kids Book) by Carol A. Johmann explains how to measure distance by dead reckoning.
Read page 42 of this book to understand how Clark measured the speed of the keelboat. Once he knew the speed at which they were traveling, he could measure the distance to a fixed point up ahead with dead reckoning. Read pages 43-44 in The Lewis and Clark Expedition book and complete the "Can You Dead Reckon?" activity. (Many libraries carry the Kaleidoscope series or you can ask to borrow it through your library's Interlibrary Loan Program.)
Engineering
The Lewis and Clark Expedition (A Kaleidoscope Kids Book) by Carol A. Johmann also has detailed instructions on building your own model keelboat from balsa wood.
If you can't locate a copy of this book at your local library, you can watch this video that uses those same instructions to see how to build it. My oldest daughter LOVED doing this project with her dad when she was in upper elementary.
Art
Fine Arts
Newell Convers Wyeth was a realist American painter and one of America's greatest illustrators. He lived from 1882 to 1945 and attended Howard Pyle's school for illustrators.
He imagined how Sacagawea guided Lewis and Clark on their journey in his painting, "Sacagawea with Lewis and Clark during their expedition in 1804-06." For a fine arts appreciation, you can google the picture ("Sacagawea with Lewis and Clark during their expedition in 1804-06." Newell Convers Wyeth) and discuss it with your children. (I can't post it here due to copyrights.)
Another American artist, Thomas Hart Benton, painted a depiction of Lewis and Clark at Eagle Creek. You can see a copy of this painting at the Amon Carter Museum of American Art. Benton was a prominent regionalist artist from Missouri who was famous for his murals and paintings of American life, much like Grant Wood (American Gothic).
Benton painted a huge mural in the Missouri State Capitol which shows much of the history of Missouri; if you ever have a chance to visit it, it is definitely worth the trip! You can read more about Benton in this article from the Missouri State Historic Site.
Practical Arts
Lewis and Clark and their men would have needed to build a fire each time they stopped to camp beside the river. They used a char cloth to help start the fire. Make your own char cloth using these instructions from Instructables, a piece of scrap fabric, and an Altoid tin.
Math
Besides finding a water passageway to the Pacific Ocean, Lewis and Clark were tasked with mapping as much of the western wilderness as they could. Practice mapping "to scale" with these instructions from Our Journey Westward.
Lewis & Clark History
This whole unit study is history! LOL For even more history stories about Lewis and Clark and Sacagewea, listen to this podcast while you're driving to practice or waiting at the doctor's office: Bedtime History's Sacagawea: Noble Explorer.
Also, check out the book Lewis and Clark for Kids by Janis Herbert. It has 21 different (and FUN!) Lewis and Clark activities to try like making beeswax candles and preserving plants.
Lewis & Clark Sensory and Body Awareness
If it's nice weather out while you are studying Lewis and Clark, I highly recommend going to a local creek to play and explore in the water. My kids love to catch crawdads, watch the water bugs skate across the top of the water, and see the tiny fish flit around in the water.
If it's too chilly to play in the water, at least try to go on a nature walk where you can see a natural body of water, like a river or pond. Many states have turned old railroad beds into walking and biking trails that usually run alongside a river, like the Katy Trail in Missouri, which follows the Missouri River like Lewis and Clark.
If your kids like to take brain breaks between subjects to wake their bodies up after sitting still, then have them act out and move like the animals discovered by Lewis and Clark. Find a list of the animals discovered and described in their journals here.
More Ideas for Your Lewis & Clark Unit Study
Be sure to follow my Pinterest board US History: Westward Expansion for more great hands-on activities and ideas for your Lewis and Clark Corps of Discovery unit study!
And don't forget to pin this post so you can refer back to it during your Lewis and Clark unit study.